I used to write hundred-page reports… I was trained to write lengthy reports filled with statistical jargon. Important information sat around and gathered dust.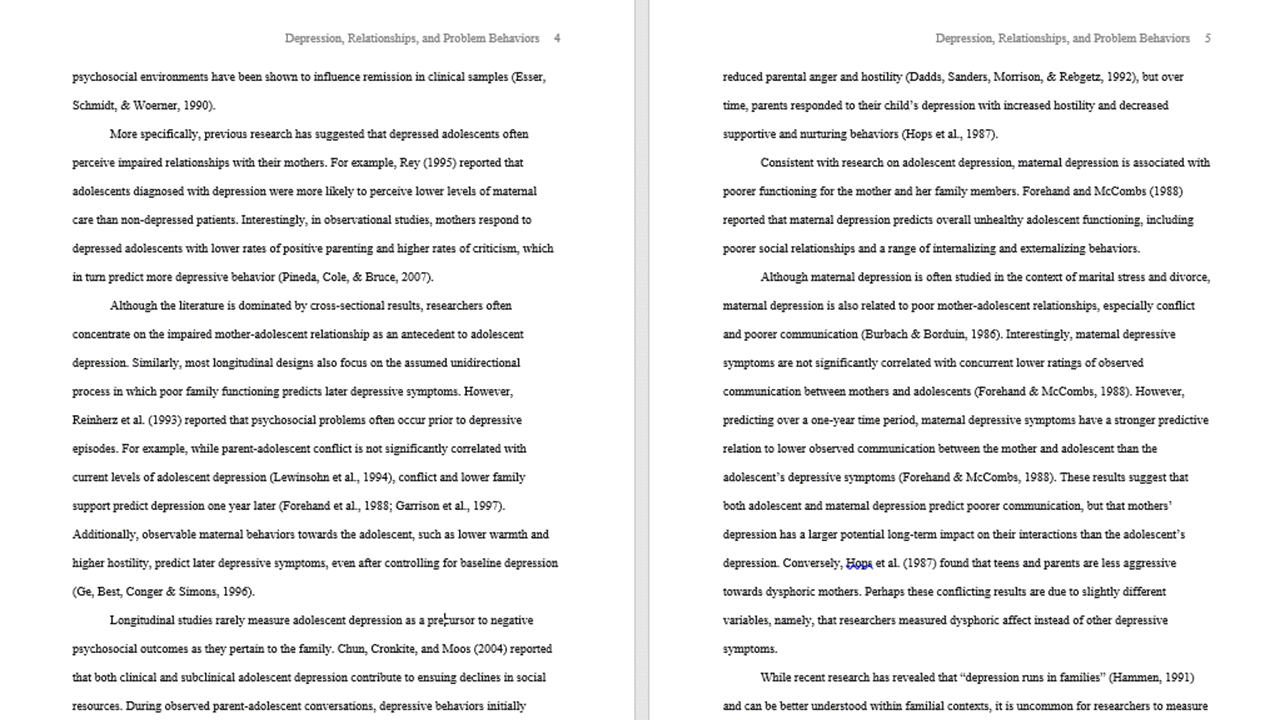 Now, I design reports that people actually want to read. Fewer paragraphs. More graphs. My audience can understand the information, so the data actually gets used.
Reports aren't supposed to feel daunting.
We'll walk through my Report Redesign Pyramid, a step-by-step process that you can apply to your own projects.
You'll learn how to:
match your dissemination format's complexity to your audience;
follow the 30-3-1 approach;
design a one-pager with my seven ingredients;
set up your Theme Colors and Fonts inside Word;
use landscape for on-screen reading;
add a 20-minute cover;
visually chunk content with dividers;
apply a text hierarchy;
start with the "so what?;"
aim for 1+ visual per page;
add 15+ styles of visuals using my checklist;
go beyond the bar chart;
lower the reading grade level of your writing; and
tell a story through dark-light contrast and takeaway text.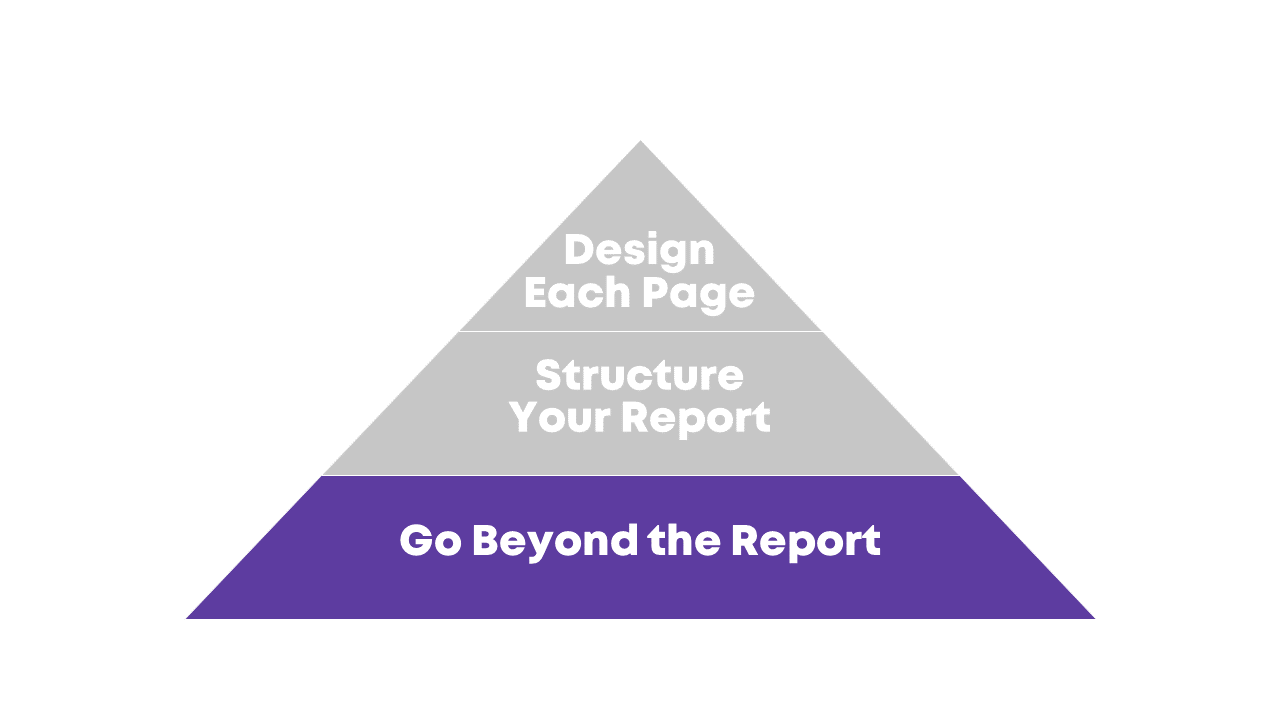 What's included in this training program?
I'm going to transform you into the report-redesigning hero that your organization needs. Here's what's included to make that happen.
30+ video lessons that you can watch anytime (the equivalent of my two-day Report Redesign workshop)
Step-by-step process to transform Dusty Shelf Reports into reports that actually inform decisions
2 Office Hours sessions every month to talk about your projects and hear from guest speakers
6 additional Live Trainings just for participants in this program
60-page Report Redesign ebook with our checklists and case studies
Discussion boards to ask questions and post your own work
Private Facebook community of fellow participants
Weekly emails to cheer you on
Lifetime access so you don't feel rushed
Examples from a variety of industries (public health, juvenile justice, museums, and more)
Behind-the-scenes Word and PowerPoint magic tricks guaranteed to make your jaw drop
Who This Training is For
This training IS for those of us who work on reports and one-pagers ourselves. This course is NOT for supervisors who delegate all their report production to someone else. (Supervisors, enroll your staff. Ask me about group rates.)
This training IS for people using everyday software like Excel, Word, and PowerPoint. This course is NOT for graphic designers who exclusively use Adobe Illustrator or Acrobat.
30+ Video Lessons
You'll get instant access to 30+ lessons–the equivalent of a two-day training. You can watch these lessons anytime around your own schedule.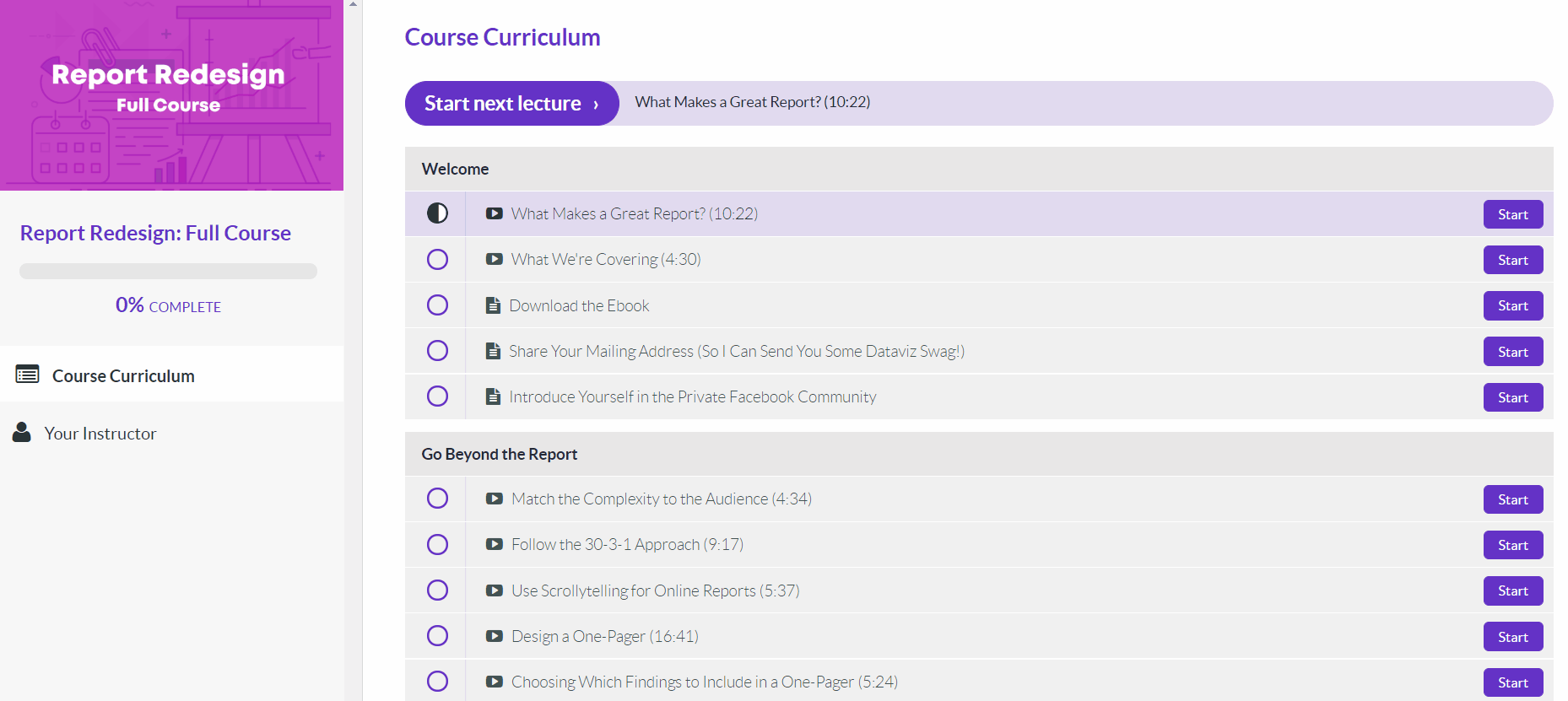 Office Hours Twice a Month
We'll even provide feedback on your projects. You'll get instant access to recorded lessons that you can watch anytime and two live Office Hours sessions every month to get targeted feedback on your reports.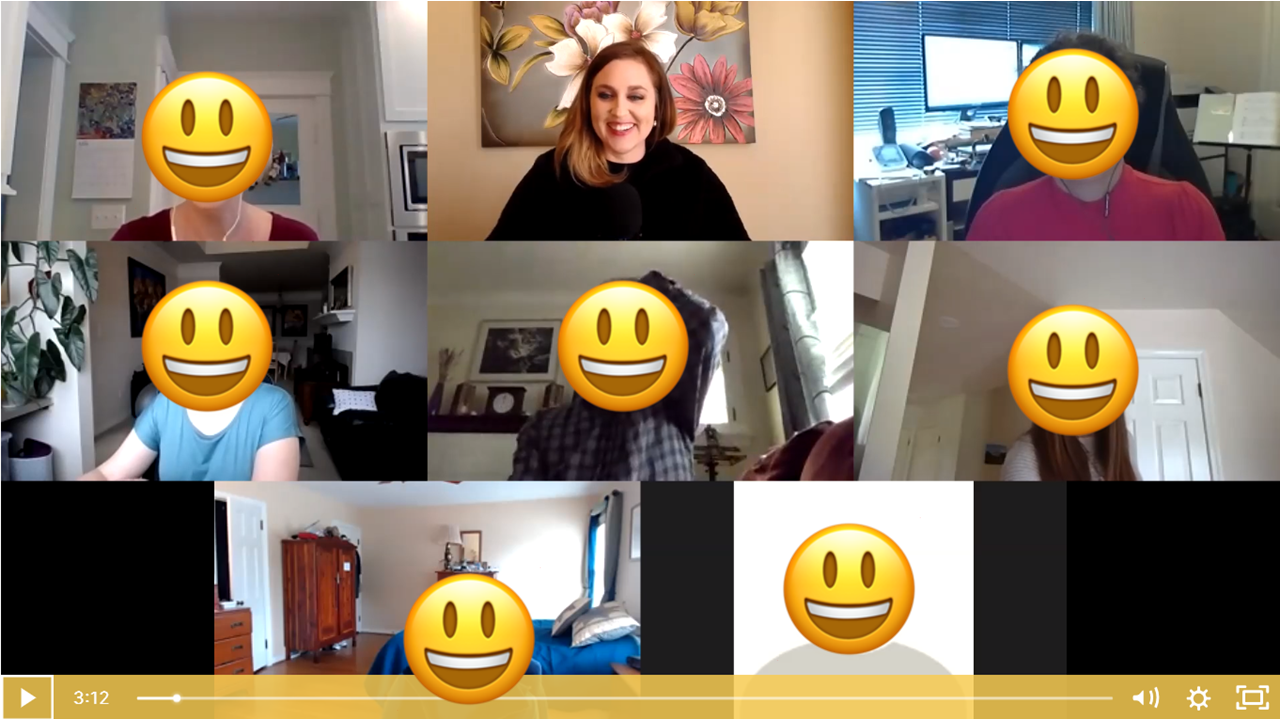 Guest Speakers in Office Hours
Sometimes we invite guest experts to speak with us during Office Hours. You'll be able to access recordings from our sessions with Elizabeth Grim (about Connecticut's COVID-19 response), Ione Farrar (about Tennessee's COVID-19 response), Brenna Butler (about user experience), Chris Lysy (about using data for social action), and Sara Vaca (about visualization qualitative data).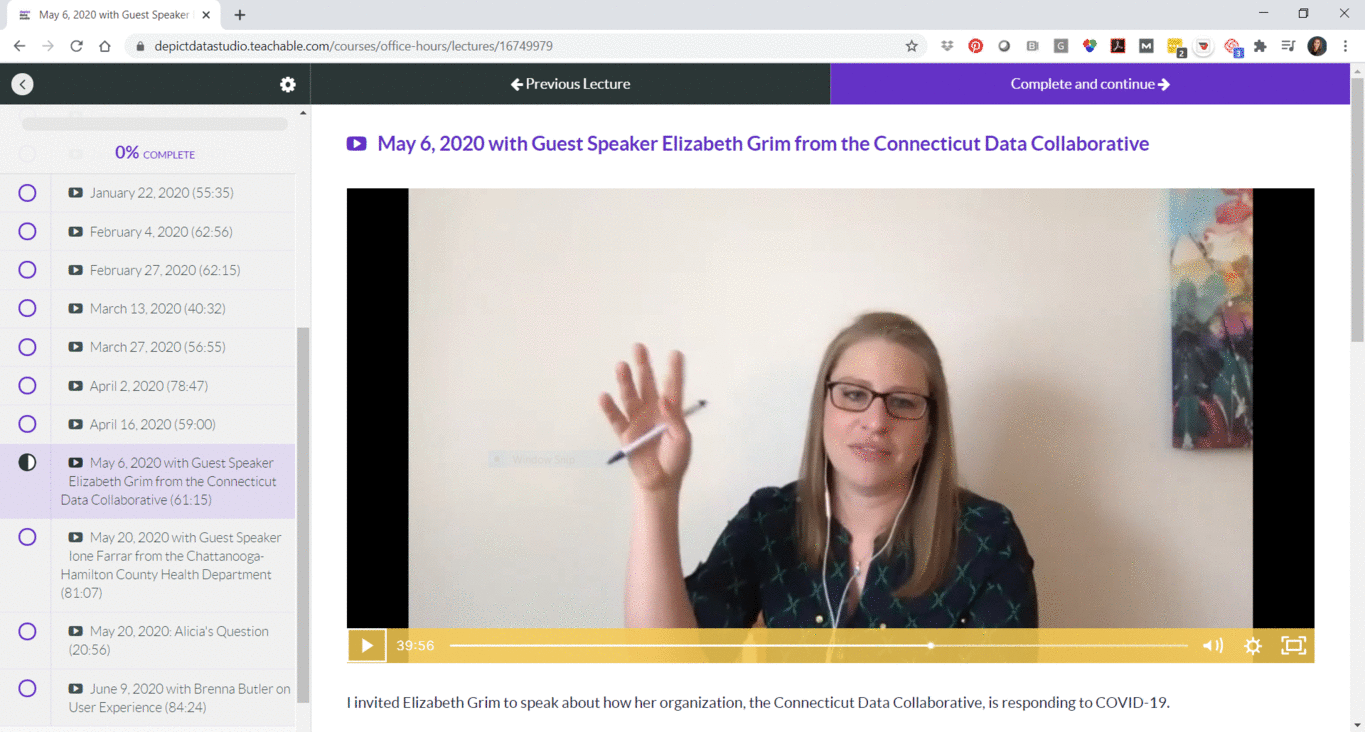 By Popular Demand! 6 Live Sessions
Office Hours are open to everyone who's taking online courses with me. By popular demand, we'll also hold six additional Live Trainings just for the participants in this course.
Tuesday, August 25, 2020 from 4 – 5 pm EST: Orientation Session & Self-Assessment
Tuesday, September 29, 2020 from 4 – 5 pm EST: Emily Mills, author of The Art of Visual Notetaking
Tuesday, October 27, 2020 from 4 – 5 pm EST: Kathleen Oh, breathwork session
Tuesday, November 24, 2020 from 4 – 5 pm EST: Redesigning your reports together (first 5 participants to register will be eligible to have their reports used as case studies)
Tuesday, December 29, 2020 from 4 – 5 pm EST: Redesigning your reports together (first 5 participants to register will be eligible to have their reports used as case studies)
Tuesday, January 26, 2020 from 4 – 5 pm EST: Graduation Party
The sessions will be recorded in case you can't make it live.
60-Page Report Redesign Ebook
You'll get a license to download our 60-page ebook, which contains our 7 Ingredients for Designing One-Pagers, Checklist of 15+ Ideas for Visuals, and additional reporting case studies. This ebook is only available for participants in the Report Redesign full course and is not available anywhere else.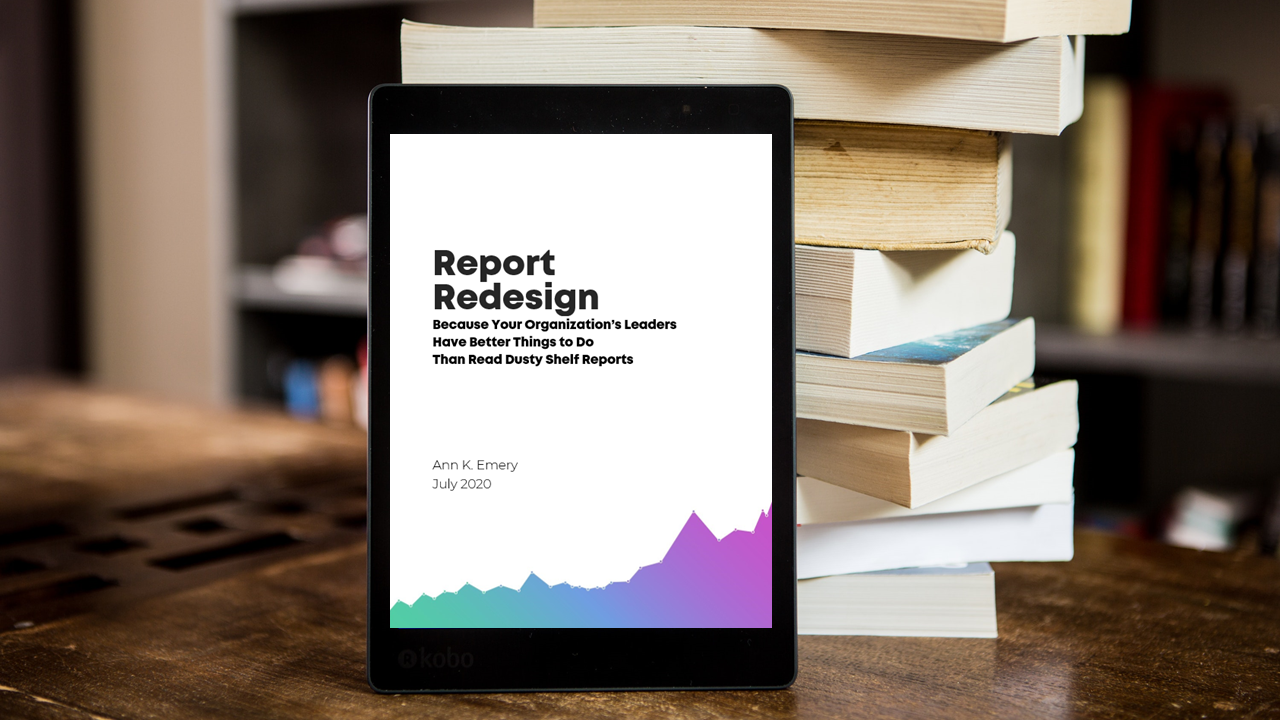 Discussion Boards to Ask Questions
Every module includes discussion boards where you can ask questions, comment on the lessons, and share your own tips with the community.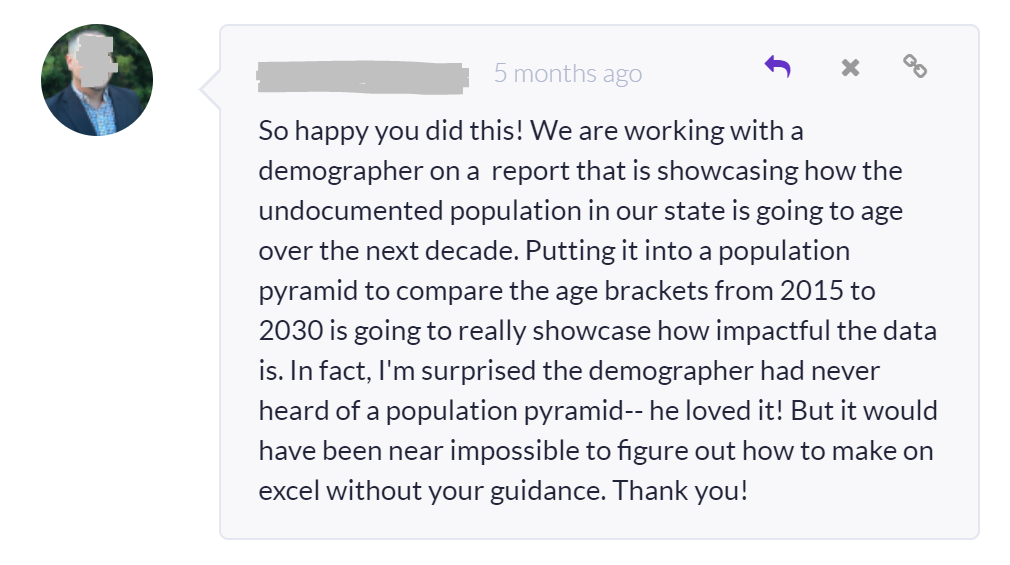 Private Facebook Community of Fellow Participants
You'll be invited to join our private Facebook community, where I offer additional Facebook Lives. You can also post your own questions and get feedback from me and from your colleagues.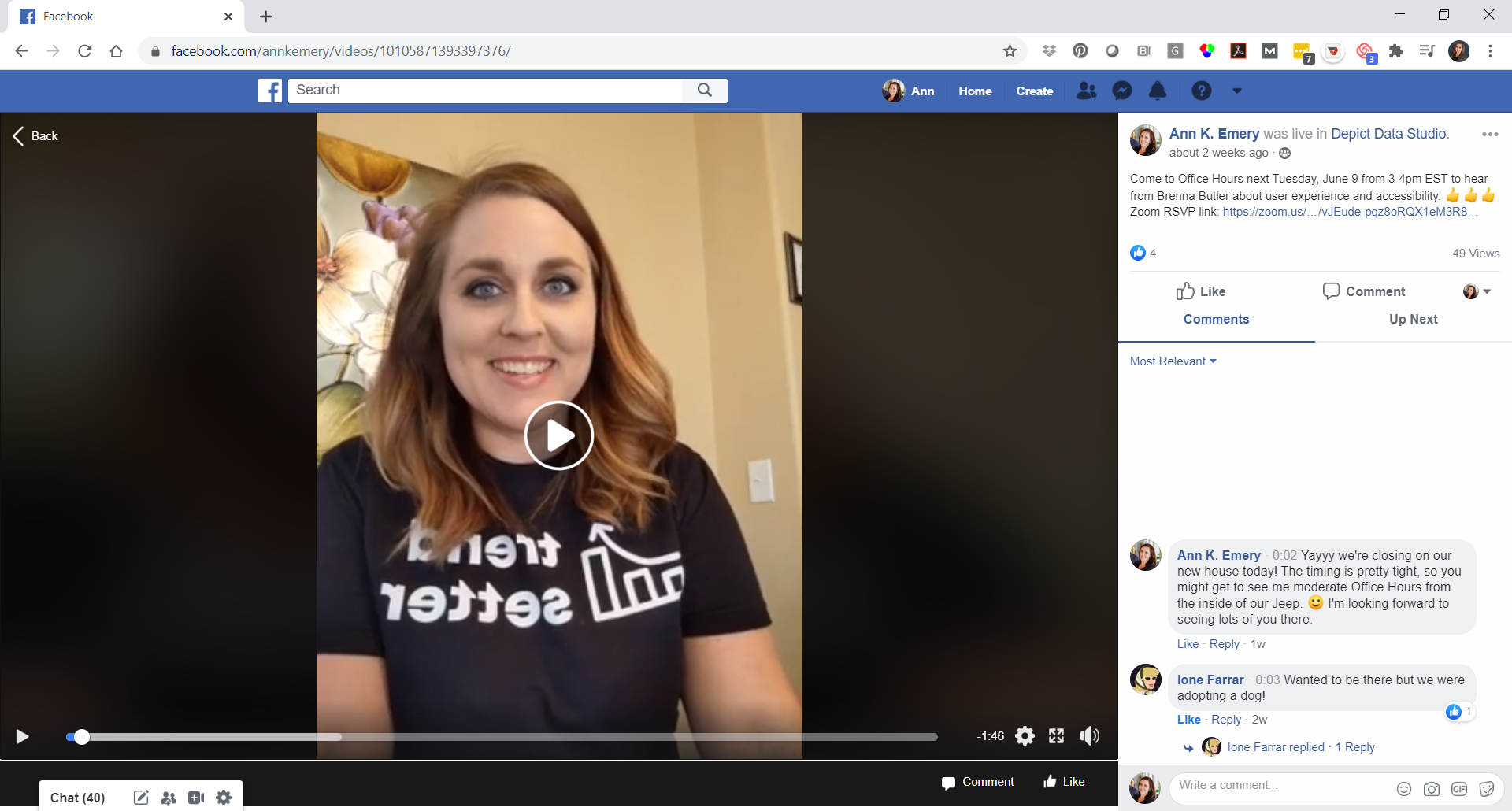 Weekly Emails to Cheer You On
I know you're going to skip straight to the juicy reporting magic tricks, but I'm going to email you on Mondays around 11 am EST and pretend like we're working through the course one module at a time.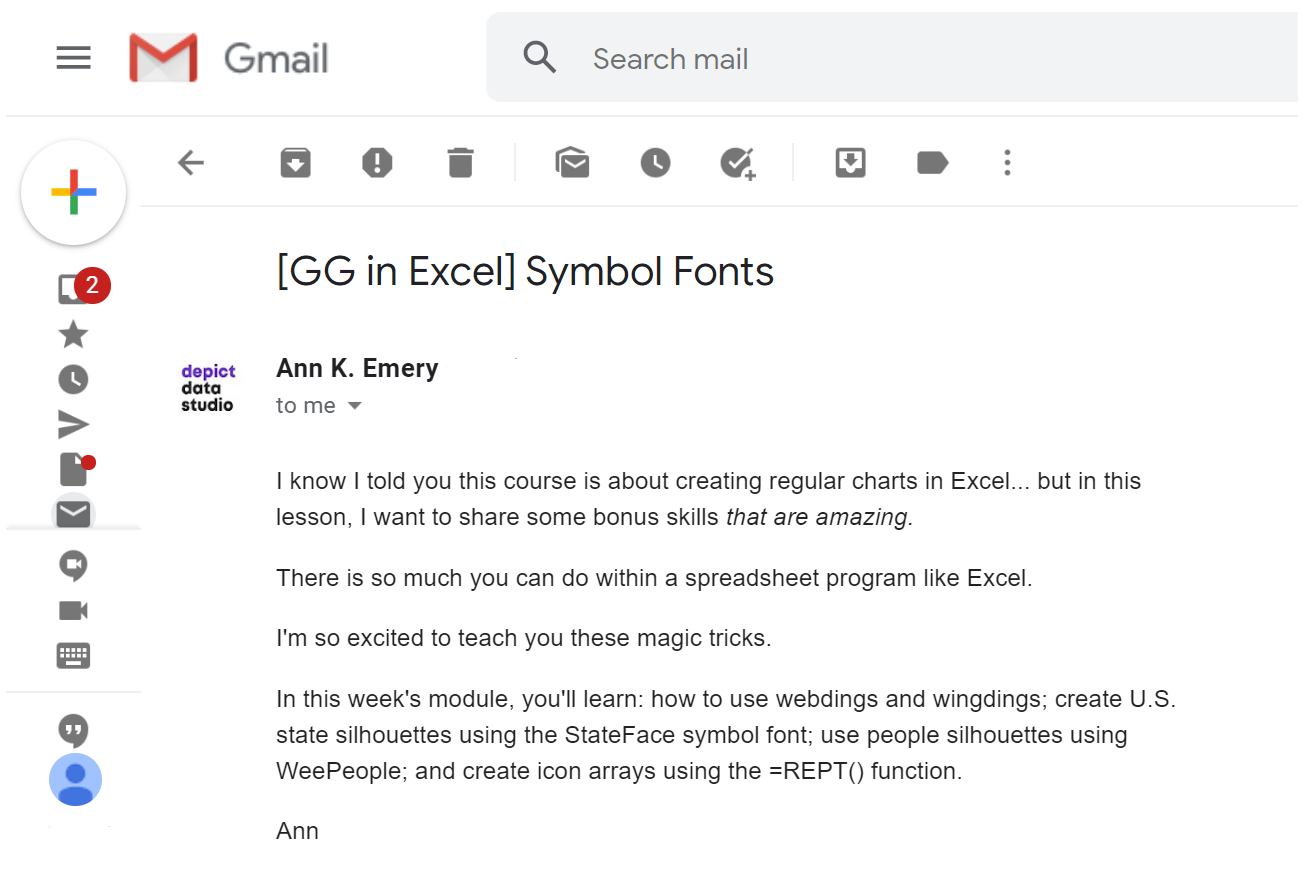 Once-a-Year Registration
Mark your calendars! This course only opens once a year for registration. The 2020 enrollment window is Monday, August 17th through Friday, August 21st. When it's open, it's open. When it's closed, it's closed.
We've also got special Early Bird Bonuses for the earliest registrants.
First 25 People
The first 25 people to register will receive a Swag Bag with a dataviz shirt, stickers, buttons, and magnets.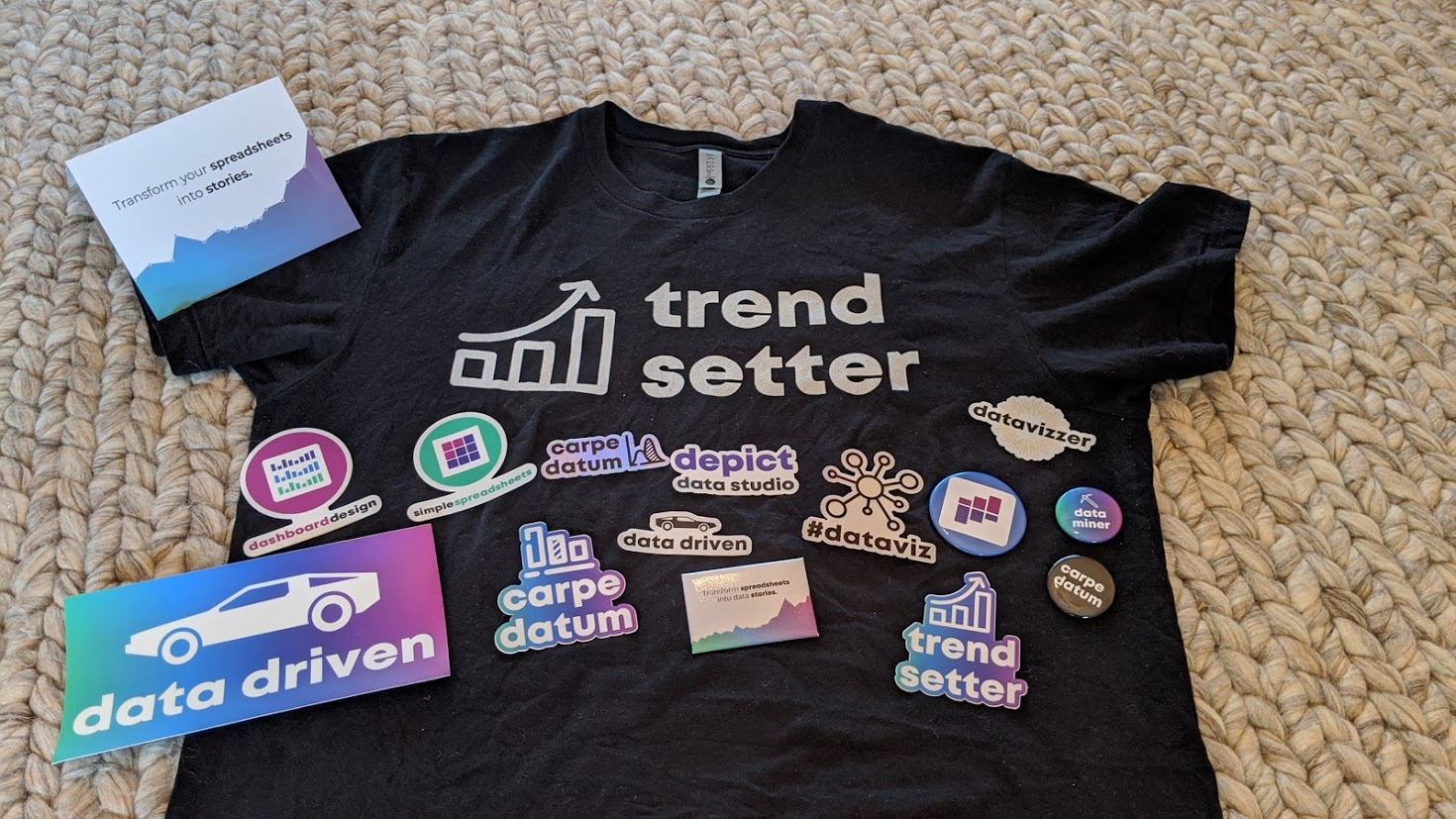 First 10 People
The first 10 people to register will ALSO receive verbal feedback on their graph, report, dashboard, or infographic. I'll spend 15-20 minutes talking through everything you're already doing well, and then give you a couple priority areas to focus on the next time you design a report like this. The feedback will be recorded and posted as a case study inside the course.
First 5 People
The first 5 people to register will ALSO receive a report makeover. You'll send me your report. Then, I'll work on it directly for ~30 minutes during one of the Live Trainings with the 2020 cohort. This is a great opportunity to have me consult on your project.
3,620+ participants from around the globe
have already taken the leap into better reports, slideshows, dashboards, and infographics by participating in our online courses.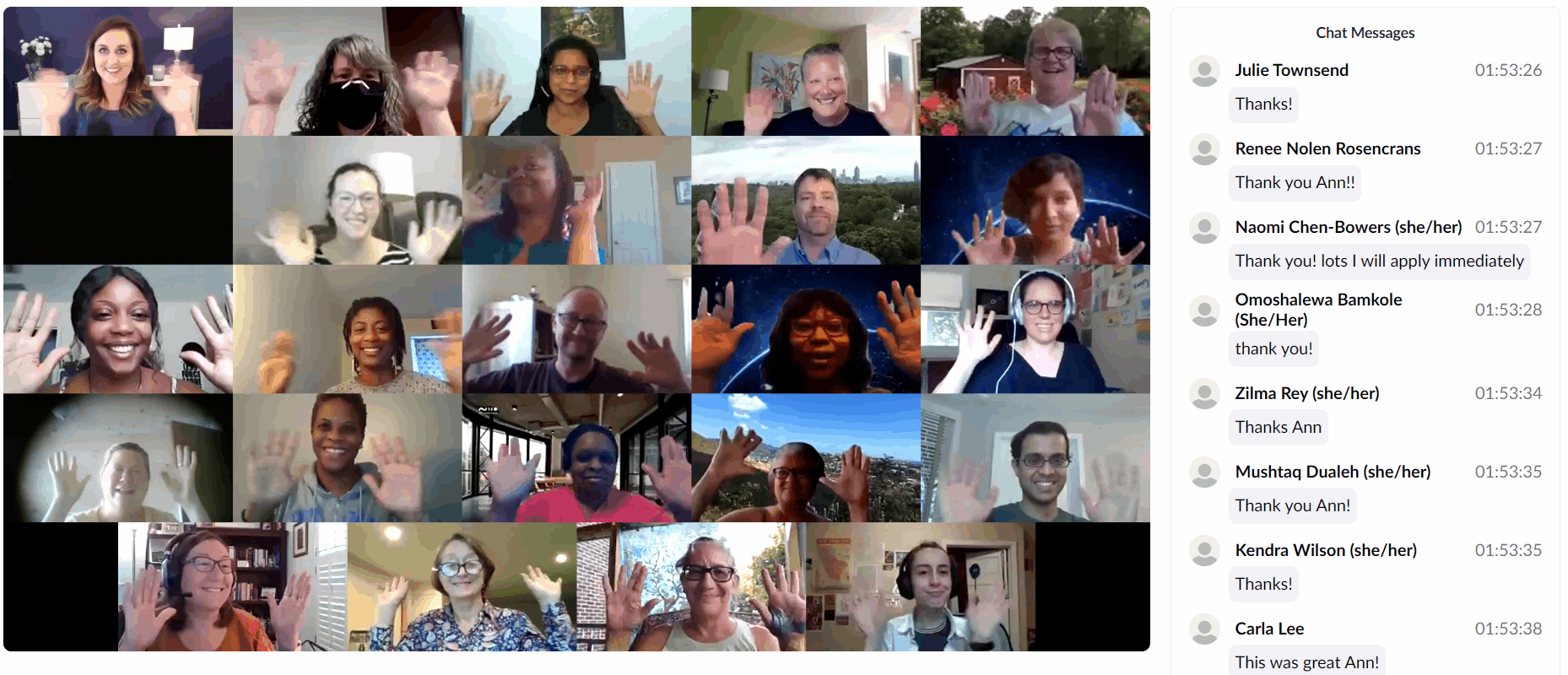 Your Instructor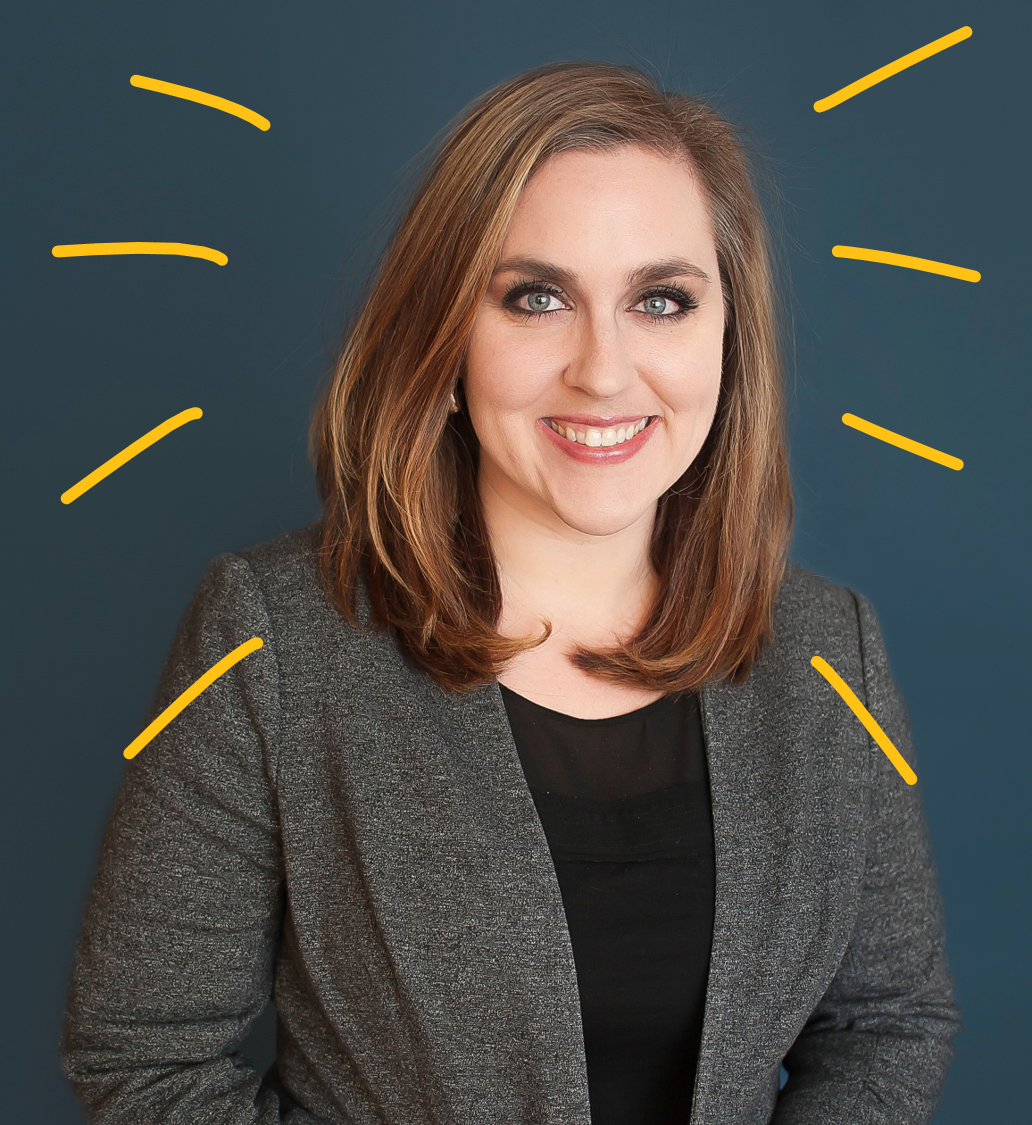 Ann K. Emery
Each year, I lead dozens of in-person workshops for thousands of people. My online courses bring those skills to you, too.
Depict Data Studio also consults to the United Nations, State Department, and Centers for Disease Control, plus dozens more foundations, nonprofits, film companies, banks, hospitals, and universities worldwide.
Your data deserves to be out in the world–actionable, talked about, used–not gathering dust in spreadsheets.

What does an online course look like inside?
I talk with you like a real person, not a monotone robot reading off a boring script.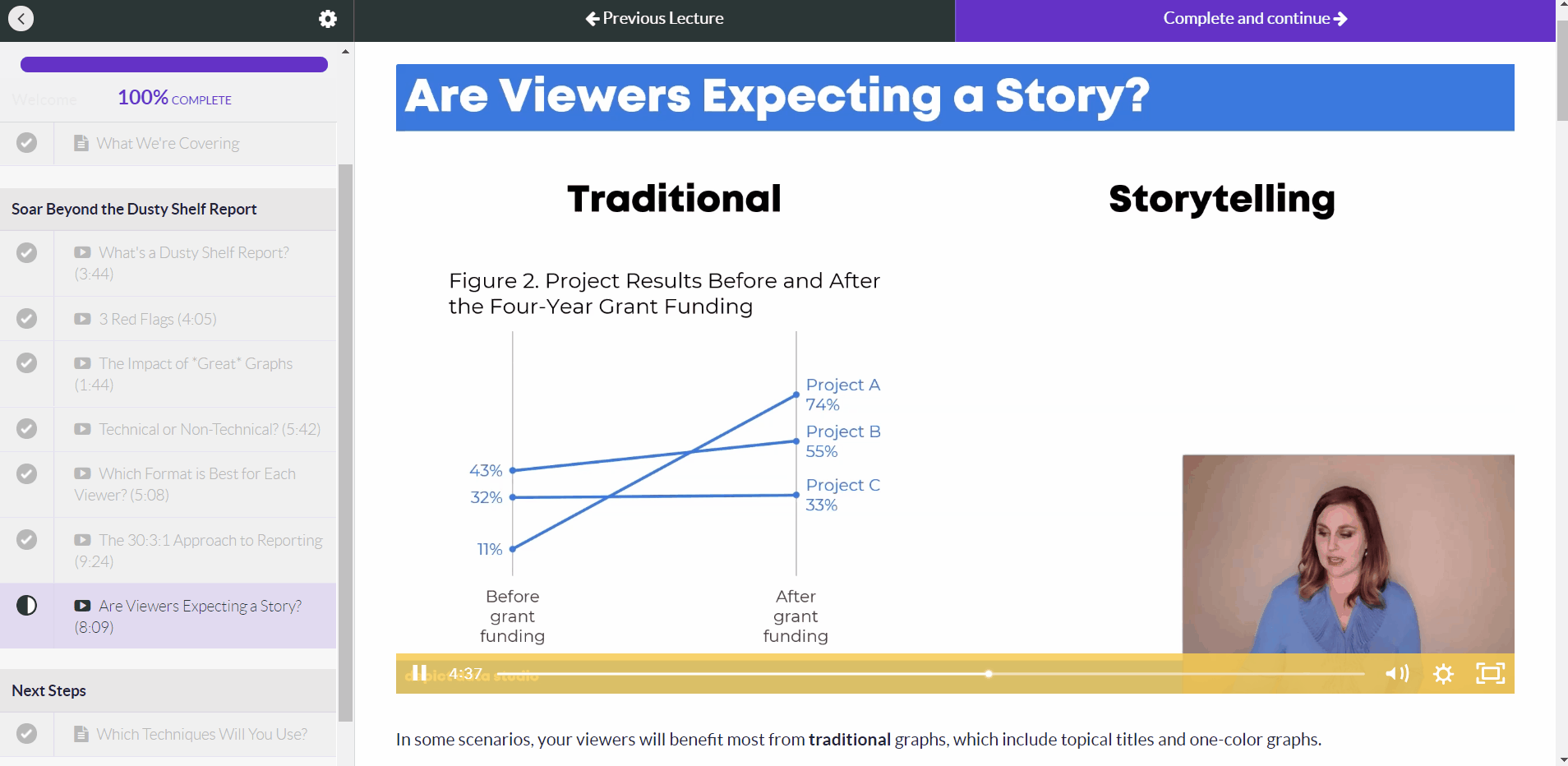 What Participants Are Saying
"Before this course, I was visualizing data in all the wrong ways. We had such compelling data, but it wasn't telling a story– it wasn't coming alive. Ann's course really helped me transform my data and reports. I utilize the skills from this course every day— when developing reports and papers, doing dashboards for my team, and presentations. I have begun to develop a reputation within my department, as well as from other departments, for making compelling reports and having a knack for data visualization. In turn, I always recommend this course. This course has even helped me become better at data analytics and even data collection and survey writing, because you can better visualize the data that you want to see. The course has been an amazing resource, and the fact that you have access to it indefinitely is astounding. If you're on the fence, take the leap! It's worth it!"
– Padraic Stanley, Program Coordinator, Rush University Medical Center
Frequently Asked Questions
How long do I have access to the course?
Indefinitely. I used to limit access to just 12 months. I wanted to encourage you to get in here and learn with me, but instead it just stressed you out, so I'm not cutting off your access anymore.
Can't I just find this information on the internet or in books?!
No. I've given workshops and webinars on Report Redesign, but you won't find these techniques in books, blogs, or on YouTube anywhere.
I know you're a perfectionist and always update your courses.
Yes, and you'll receive all future updates to this course.
What if I am unhappy with the course?
Contact us in the first 30 days and we will give you a no-questions-asked full refund.
Register by Friday, August 21, 2020
See you in the course!
— Ann K. Emery